Board
Chair
Darryl R Seccombe OAM
Darryl was awarded a Medal of the Order of Australia (post-nominal OAM) in the Queen's Birthday Australian Honours on 13 June 2011 in recognition of his 'service to the community through a range of charitable organisations'. He is currently a committee member of the Order of Australia Association of Queensland.
Darryl is Managing Director and had been the Principal of DSA Financial Pty. Ltd. a successful Estate and Financial Planning practice prior to his retirement from this industry January 2017. He was a Certified Financial Planner and a Certified Insurance Professional. Darryl is a former Director of the AFA Investment Fund Pty. Ltd. an Investment Trust for the Association of Financial Advisers of which he was the Queensland Trustee, and is also a former Director of the Valley Chamber of Commerce Incorporated and former President of the Valley Business Club. He is a Past President of the Association of Financial Planners Queensland. Darryl was the Founder and Managing Director of Charitable Bequest Services (Australia) Pty. Ltd. which specialised in deferred bequests through the donations of life insurance. Through its Australian network, it was successful in assisting various not-for-profit organisations and other foundations to raise long – term deferred bequests. With extensive experience in charitable fundraising Darryl has been a past Secretary of The Australasian Institute of Fundraising (Qld Chapter). He has also written various articles on Charitable Life Insurance for the "Fundraising Australasia Journal".
Darryl assisted in introducing the Make- A- Wish Foundation to Australia after seeing a presentation by Make- A- Wish in San Francisco USA in 1985. Make- A- Wish Foundation Australia Limited was officially established in November 1985 in Victoria. In 1986 Darryl introduced the National Charity to Queensland and was an integral part of its development over the years, with its early years run from Darryl's financial planning practice. In 2015 the Make- A- Wish Foundation of Australia celebrated its 30year anniversary, as one of the most recognised successful and trusted charities in Australia. In 1985 Australia was the first country to establish Make- A- Wish outside the USA and it is now established in 44 nations throughout the world. For his outstanding achievements and contributions to Australia, Darryl has been recognised in "Who's Who in Australia" since 1988. Darry has also been recognised in " Who's Who in Queensland" since 2007 and " Who's Who in Business in Australia" with other notable business people who have helped shape and develop Australia's corporate sector.
Board Members

Graham Billinghurst
Graham Billinghurst is Chief Executive officer of Colhurst Consulting Services. He is a Director of Group Companies of the Lewis Land Group and Director of Junior Mining Group Rimfire Pacific NL.
With extensive experience in investment banking, development and the housing sector, Graham has represented governments in off-shore development negotiations with the Overseas Property Group. He has consulted for the Queensland Industry Development Corporation and the Queensland Department of Trade.
During 18 years as Vice President of Citibank Ltd, Graham managed a $750 million real estate portfolio and gained a comprehensive knowledge of compliance, financial structuring and corporate governance.
Graham's committee membership experience includes terms with the government's Housing Advisory Committee, President of the Urban Development Institute of Queensland and committee member of the Urban Development Institute of Australia.
Graham was an integral member of the board of Brisbane City Mission, a homelessness support initiative which has since integrated with Mission Australia.
Rachel Langford-Ely
 Rachel is a highly experienced Commercial Manager, with specific expertise in commercial risk management, project management and corporate strategy.  Rachel has worked with a broad range of communities on projects of economic and social significance and has a strong commitment and passion for the development of local communities and ensuring positive outcomes for all- particularly the most vulnerable.
During her time as a solicitor with Clayton Utz, Rachel was an active participant in pro bono programs, and provided many hours of assistance to the Pindari legal clinic. During her time with the Queensland Department of Primary Industries and Fisheries, Rachel worked with remote communities on projects for economic development based on the unique characteristics of each community, as well as on ensuring fairer and more secure access to fresh food in remote locations. With broad experience across the private and public sectors, Rachel brings a passion for economic empowerment and ensuring equality of access to basic services for all.
Rachel holds Bachelor of Laws (Hons) / Bachelor of Business and Masters of Law degrees from Queensland University of Technology, and recently completed the Advanced Leadership Program with Women & Leadership Australia.
Andy Fyffe
Andy is Managing Partner at Khemistry, an independent communications agency he co-founded and which services major brands including Mantra Hotels, Virtus Health, Ergon Energy, TAFE Qld, and Brisbane City Council.
At Khemistry he drives strategic planning and management for campaigns and projects right across the spectrum of brand, advertising, technology, user experience, social, and direct marketing disciplines.Prior to establishing Khemistry he was a Policy Officer with the Queensland Government, and Departmental Liaison for several Economic Development & Innovation portfolio Ministers. He has also worked in business Analyst roles at Volvo Australia and James Hardie Pipelines. Andy holds a Bachelor of Business (Griffith) as well as a Graduate Certificate in Business Administration (QUT). He is a member of the Communications Council, The Australian Marketing Institute, the Australian Institute of Management, The Fortitude Valley Chamber of Commerce, and the Brisbane Advertising & Design Club.

 Anne Mitchell
Anne Mitchell has comprehensive experience in working first hand with people experiencing primary homelessness across Brisbane City.
Anne is a past president and life member of the 139 Club Inc, a not-for-profit welfare centre in Fortitude Valley which aims to improve quality of life for homeless, destitute and socially isolated people. She has been a member of the Club's Management Committee for 25 years.
In 2005, Anne joined the Homeless Taskforce set up by Qld Shelter Inc, a network of agencies committed to supporting people experiencing homelessness and maintaining an ongoing mandate to represent homelessness issues in Brisbane. She is also a member of the Australian Federation of Homelessness Organisations (AFHO), and Qld Shelter Inc.
In 2010, at the CAN Awards, Anne was the recipient of the Ron Muir Award for Outstanding Community Leader.
Previously, Anne worked for almost five years as a Project and Administration Officer with the Queensland Council of Social Service (QCOSS). Her extensive range of community activities includes lifetime service to both Guides Queensland and the Queensland Branch of Scouts Australia.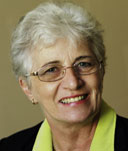 Morag  Hocknull
Morag Hocknull is a Director and Project Manager in her family business Clelland Associates Pty Ltd/ Education Development Office Management Services (EDOMS).
With over 25 years experience in the fundraising profession and with a passion for philanthropy, Morag has achieved excellent financial results through her strategic and long term major philanthropic giving programs.   Morag also has a wealth of knowledge and experience in the areas of community engagement and corporate partnerships and promotes the benefits of relationship building and good stewardship to secure successful outcomes.
Morag held the position of Director of Development and Executive Officer for the Somerville House Foundation for 16 years; Philanthropy & Corporate Relations Manager with the Endeavour Foundation and then as Project Manager for the 2010 and 2011 Grand Highland Charity Ball raising awareness, corporate sponsorship and donations for the Endeavour Foundation.  Morag worked with a major Indigenous organisation in the Northern Territory as well as spending seven years in Papua New Guinea where her husband was a Patrol Officer in the 1970's.
Morag is a member of QUT Alumni Board as the Vice Chancellors representative; was the Inaugural President of the Australian Centre of Philanthropy & Non Profit Studies Alumni Chapter having graduated with Graduate Certificate in Business in Philanthropy & Non Profit Studies in 2002 and is a former Board ember of Business South Bank. Morag is a Fellow of the Association of Development & Alumni Professionals in Education (ADAPE), former FIA Member, a Mentor with the QUT Business School Fostering Executive Women program and a member of the Somerville House Foundation.
Debbie Kilroy OAM
After her release from prison in 1992, Debbie Kilroy established Sisters Inside to fight for the human rights of incarcerated women and to address gaps in services available to them and their children. Since then, Debbie has completed four tertiary degrees – in social work, forensic mental health and law – and was the first and only former prisoner to be admitted as a legal practitioner in Queensland.As the Chief Executive Officer of Sisters Inside, Debbie works at the coalface of human rights activism and her eloquent advocacy to highlight the over-representation of women, particularly Aboriginal women and girls in Australia's prisons has earned her many accolades. She has spearheaded a long list of ground-breaking programs which have broken the cycle of imprisonment. Debbie has overcome her own personal obstacles to rebuild a life that is lived in service to others and she works long and hard to improve the circumstances of the powerless, the voiceless and the disadvantaged. Debbie opened her own legal practice that sits alongside Sisters Inside in 2013. The law firm is a criminal defence practice that advocates for the human and legal rights for people charged with criminal offences. Debbie was awarded the Order of Australia in 2003 for her tireless work with criminalised and imprisoned women and girls and the Australian Human Rights Award in 2004. In 2013 Debbie was awarded as the Churchill Fellow for the Winston Churchill Memorial Trust of Australia and in 2016 celebrated as the Australian of the Year Finalist (Qld).
 Professor John McAullife AM
As a Property/Commercial Consultant specialising in Central Business District, sales purchase and development for many years Professor John McAuliffe AM holds extensive knowledge in the property development sector.John is the Independent Chair of Brisbane Housing Company and his service extends to many other avenues including Chair of Multicap, Chair of Catholic Property, Brisbane, former Chair of Mater Health Services, Brisbane, former Chair of the Holy Spirit Private Hospital, Brisbane and former Member of the Mount Olivet Hospital Board.
Victoria Parker
Victoria Parker is a nationally awarded marketing communication consultant with over 18 years' experience working in the private and public sectors, with a particular interest in the community, housing, and property development industries.
Most recently, while working as the Director of Brand for the Urban Development Industry of Australia (Queensland) Victoria led the establishment of the residential housing Research Foundation. The Research Foundation initiated a rolling program of research that provides critical insights into what housing solutions are needed so developers and regulators are better able to develop thriving and sustainable communities. Also, in this role Victoria repositioned the organisation to better reflect the critical role that development and housing plays in the lives of Queenslanders.
Also of significance to the Lady Bowen Trust, Victoria has previously worked with the Queensland Department of Housing, focussing on the renewal and release of social and community housing including boarding houses, emergency housing, and housing solutions for older people.
In addition to consulting on behalf of other organisations, Victoria has also led the start-up and sale of two award-winning business (one that sold into 40 countries around the world) and has been awarded multiple national and state awards for her marketing, communication and behaviour changing efforts. Of more personal significance is the bike ride across Cambodia raising funds for War Child Australia, raising over $120 000 for premature babies, establishing a KIVIA micro-finance lending team of more than 1,000 loans, and walking the Kokoda Challenge for marginalised young people.
Victoria holds a Bachelor of Business Communications (QUT).